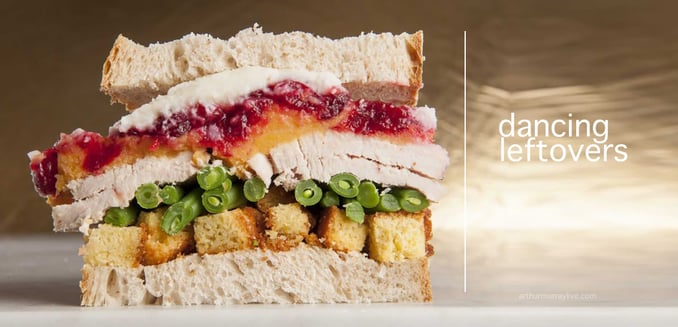 Don't Scrap Your Dancing Leftovers
We are in the season of leftovers.
The chilly days filled with sandwiches made from leftover turkey dinner, stuffing, and pumpkin pie when you're feeling exotic. The goal is to repurpose the spoils of a great holiday meal, and not let any of the hard work in the kitchen go to waste.
Yet, as a dancer, you may be sitting on piles of Dancing Leftovers any time of the year.
So let's explore some ways you can get the most mileage out of those dancy leftovers. Who knows, we may be able to turn them into plenty of future dance-meals to come.
What Are Dance Leftovers?
Let's treat this like a Thanksgiving Dinner. We'll divide this up by food groups: Protein, Sides, and Dessert. We have some dance program equivalents for each that we will explore below.
Dessert Leftovers: Routines
Yes, we are starting with dessert, but that's only because you're a responsible, dessert loving, adult. If you haven't discovered it already, routines are the dessert of your dance program. They are an exciting and fun way to learn style, technique, and dance presentation skills.
They are, unlike the best desserts, the biggest culprits of dance leftover waste.
Why?
1. Exchanges & Upgrades
Routines are easily traded out, for one. The moment you finish that Waltz routine, it's easy in the post-routine euphoria, to swap it out for the Salsa routine you're looking forward to.
2. Single Serving
We often will leave routines after a single performance, for a variety of reasons, and all of the potential gains in dance execution get curtailed before they reach the Natural Use Stage of learning.
3. Transfer of Information
Just like every Holiday meal will start in the oven, and then later live on via the microwave, your routine training needs to be "reheated" in the microwave of your dance program. You see, every routine is loaded with gems that, essentially, unlock patterns, techniques, and styles from more advanced levels, but only if you and your teacher are intentional about it after the performance.
Bottom Line: Routines need to be "reheated" in your dance program, first and foremost. There are countless dance program skills that are unlocked with a routine, but in order for that to take hold, it's important that your routines are being performed more than once.
Side Dish Leftovers: Event Dances
There are times when we will add dances at the last minute for an event, and "last minute" can even mean "right before you walk on the competition floor". There are plenty of dances that we treat as single-serving fast food dances, when they are, in fact, worthy of a sit-down meal... and plenty of leftovers to boot.
Here's how to do it.
1. Interrelate the Patterns
Did you know that the Country Western dances use all the coolest turns, wraps, and combinations from the most popular nightclub dances like Salsa, Bachata, or West Coast Swing? Spending a little extra time on the dance pre-event, instead of mid-event, you could establish enough of a foundation to carry these concepts over post-event.
2. Interrelate the Styling
Let's think about this, one of the best dances for arm styling may be a dance you barely know - Bolero. One of the best dances for rhythm may be a dance you overlook - Merengue. Not to mention, of the best set of dances for your ballroom topline may be a syllabus shrouded in mystery - International Ballroom.
So even if you just sample any of the aforementioned dances, the goal is not to carelessly add more content, but instead, enhance the context of the dances you rely on most.
Bottom Line: Use minor dances to unlock specific areas of your dance program like patterns, styling, and rhythm. To do this, avoid taking the "fast food" approach with these important, but sometimes overlooked, dances.
The Main Course: Program Dances
You'd never intentionally burn your turkey dinner, just like you'd never intentionally burn the bridges to previous levels that you've completed; but if there was one area where dancers can toss out a lot of delicious dance leftovers, it's here.
Here are some ways to prevent it.
1. Double the Level, Double the Fun
Many dance students work on one level at a time in their dance program, but those that try two have a decided advantage in the leftovers department. Here's why:
Sticking with the Holiday Meal analogy, there may be someone in your family who loves to cook, has been a lifetime subscriber to Better Homes, and watches everything from Julia Child reruns to the Rachael Ray. That person probably dreamed of having a double oven the way most other people dream of having a refrigerator of beer in their garage.
The double oven gives you cooking flexibility. You can cook at varying temperatures, delivering food at different times, and that's exactly what a mutli-level dance program does. While you're cooking Bronze 1 to finish in the next 14 weeks, you can simultaneously cook Bronze 2 to finish in 24 - cooking times may vary.
Taking this approach keeps the focus on "the meal" instead of "the dish".
2. Forced and Focused
A warmup routine is a great way to get your body tuned up for your lessons. This should be done with your teacher, and eventually will be an activity you should be able to do on your own before your lessons.
The real kicker? Make it all about the basics. Force it.
When push comes to shove, a dance level is like a job title - it's less about what it says, and more about how you deliver. The basics aren't there to hold you back, they are there as vessels that transfer challenging information.
Bottom Line: Your dance program is the featured item on the menu, and like every Holiday meal - the basics should never get left out. There's a risk of leaving leftovers in previous levels as you move up, but multi-level programs are a great way to keep that from happening.
Final Thought
There is an abundance of dance information. That's what makes your dance program interesting and the quest for knowledge engaging. Due to this abundance, and just like a Holiday Meal, your dancing hobby is built for leftovers.
So now that you know where to look, there's nothing stopping you from making soups and sandwiches with them.
Your teacher hasn't perfected the technology to be in your ear 24/7. So until that happens, let us handle the 24/7 Dance Advice. Hit subscribe, stay focused, & make progress.