New to
Unique DOR?

Here's 10 Tips You Should to Know

Editor's Note: This article was first published in 2016 and, as is the case with all Dance-O-Ramas, a few of the specific details about the event will change from year to year. Unique is a spectacular event that can easily be the highlight of your dance calendar. Hopefully, this article captures the spirit of that.

As far as the specifics go, It's always best to check with your studio manager, teacher, or franchisee when it comes to things like location, dates, theme, and extra activities.
1. *It's at the Hotel Irvine
Formerly the Irvine Hyatt, the Hotel Irvine has wonderful rooms, a market-style cafe, and exceptional service which acts as the perfect backdrop to this popular Arthur Murray event.
*For 2021, this event has had a change of venue to the Orange County Hilton in Costa Mesa, California.
2. Make Plans for the Matinee Show Early
If you aren't dancing in the incredibly popular and entertaining Matinee Show, don't worry. It's like attempting to get a table at a four star restaurant (hint: you can't do it last minute). Instead, reserve your seats early so you can watch the show this year, read this helpful article by Jessica Holty on preparing a Matinee Show routine, and set up Unique 2017 on your dance calendar so you can be in the show next year.
3. There will be a *Theme Party
From James Bond to Renaissance attire, one of the special features of this event is the costumed theme party. Feel free to dress up in costume to your heart's content. At Unique, there's no shortage of great costumes from the Arthur Murray students and staff.
*For 2021, the Theme will be The Roaring 20's
4. *Early Day at Disneyland
For those registered for the Early Arrival package (check with your studio manager), there will be a special outing to a place called Disney's California Adventure. Heard of it? There you'll be seeing their acclaimed live action Frozen show. It's important to remember that this activity is not a costumed affair. Dress for dinner and dancing, Arthur Murray "party attire", and don't forget to bring your dance shoes.
*While this was the early arrival activity in 2016, this will change from year to year.
5. Know Your Closed and Open
Closed Category means that you must stick to material from your dance program, Open Category means you don't. Simple as that.
Important Note: Closed Category typically occurs on Friday, but can sometimes start earlier depending on the size of the event. Open Category is on Saturday, but always check with your teacher to confirm any of your entries.
Arthur Murray Unique Dance-O-Rama 2017 from Maude Productions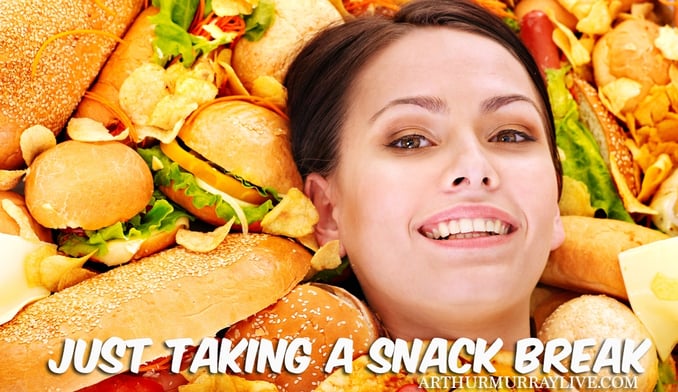 6. Enter the Ballroom with These Things (or Else)
Don't forget snacks. While your event package will include great meals, snacks at the table are a welcome relief between dances.
Aside from the normal fare - Mints, snacks, bottled water - Don't forget dance shoes, your costume, a great attitude, and your heat sheet (more on this on #7). These are the basic requirements for a seamless experience.
Slippers and turkey sandwiches are optional.
7. The Timeline and the Tide
You Heat Sheet is the checklist of all the dances that you'll be entered in at the event. It's easily the most sacred piece of paper at an event like this.
A word of advice: Never assume anything about the listed times on your Heat Sheet. They are a reference point, and an approximation generated by a supercomputer powered by a human machine sent back through time to ensure that all Arthur Murray events run without problems.
Also known as the event organizers.
The best advice is to show up 30 minutes before your scheduled times to be safe.
8. When Your Dancing is Done... Dress Up
On Saturday Night, all of the students will be finished dancing, and dinner will be a spectacular formal affair. Celebrate the achievements of your fellow students, and prepare to watch the professionals compete once dinner is over.
It's hard to miss the celebratory note in the air as each and every participant will have completed another huge surge in their dance progress. Sit back, raise your glass, and revel in your accomplishments with your Arthur Murray community.
9. Thank the Hosts
The Unique Dance-O-Rama® was built year by year by Arthur Murray legends, Steve and Georgetta Platt. Every decoration, personal touch, and wow moment was carefully planned. Every minute saved through skillful event execution is a reflection of their hard work and care for the people participating at this event. It's no wonder that this event has grown year after year.
IDEA: Due to their workload to make your Unique experience magical, this pair may zipping around the ballroom into the wee hours. With that in mind, why not write them a quick note, or have your studio sign a card sharing what the event meant to you?
10. Make Plans
Any Dance-O-Rama® is like cooking a Thanksgiving Dinner - you can't do it last minute. Use your souvenir program, sit with your teacher during the farewell breakfast on Sunday, and circle the next cities on your Dance-O-Rama® tour. This will allow you to put in for vacation time, and for your teacher to start planning the next stop on your dance journey.