Serge Chmelnitzki: The Tech that Turned to Arthur Murray
Information Technology guys are, technically speaking, technical speakers.
Translation: They can tell you everything that's wrong with your computer, but generally run into the bulk of their problems when it comes to communicating to the humans running the computers.
That's why Serge Chmelnitzki may either be a social savvy Information Technology outlier, or a prime candidate for Arthur Murray.
Hint - he chose the second option, and based on the dance advice you're about to uncover in the following interview, you're going to be glad he did.
AML: First things first, how did your Arthur Murray journey first begin?
SC: I When I moved to the United States I still felt like I had to continue my career in IT and marketing. That was the trajectory I was on, and I wasn't ready to question my momentum just yet. So I sent out a bunch of applications for IT jobs right away. I had been dancing most of my life too though, so while I was waiting for responses I thought I might just as well teach some dancing on the side. I called up the only dance studio in the area that seemed like I'd want to work there and before I knew what was happening I was an instructor at one of Steve Platt's schools. Needless to say, I did not pursue any IT jobs after that.
AML: Congratulations to you and your wife Kristen for becoming the new owners of the Arthur Murray in Santa Barbara. What has that process been like?
SC: Serendipitous and exciting. Kristen was born and raised in Santa Barbara and started originally at that studio as a student. I had fallen in love with the city a few years back, so when the opportunity presented itself to us, we knew this was the perfect step.
The transition itself wasn't all that terrifying either. Kristen and my skill set actually compliment each other really well - she is very organized, for instance, while I'm very good at listening to her tell me how to organize myself - and we had a lot of support. We had less than two weeks from the moment the decision was made until our first day in the new studio, so we jumped first and asked questions later, or never. But between her parents living in Santa Barbara and Steve guiding us every step along the way, we couldn't have wished for a better support system. So, in the end, everything worked out fabulously.
AML: As a business owner, and competitive dancer, I'm sure you've had to make some adjustments to your life. What's something that you've done to make things more efficient?
SC: Once the shock of being studio owners wore off a little, and we were able to go back to practicing regularly, that part actually became a little easier than before. We always used to work in different studios 20 minutes apart form each other so our practice ended up starting pretty late. Being able to start right after the work day is done is actually quite an improvement in comparison. So, in a way, our life has gotten easier in that regard.
AML: Let's talk about this event coming up. This will be your first District Showcase in Northern California. What have you heard about the event from your neck of the woods?
SC: It's quite legendary! Bards sing folk songs and tell tales about it all across the lands.
In all seriousness though, I have heard quite fantastic things about it. It is said to be enormous in scope and have a huge attendance with thousands of entries. I've seen the live streams and tweets, posts, and snaps from lots of people. It looks like the energy is amazing so it should be a lot of fun. I can't wait to be a part of it.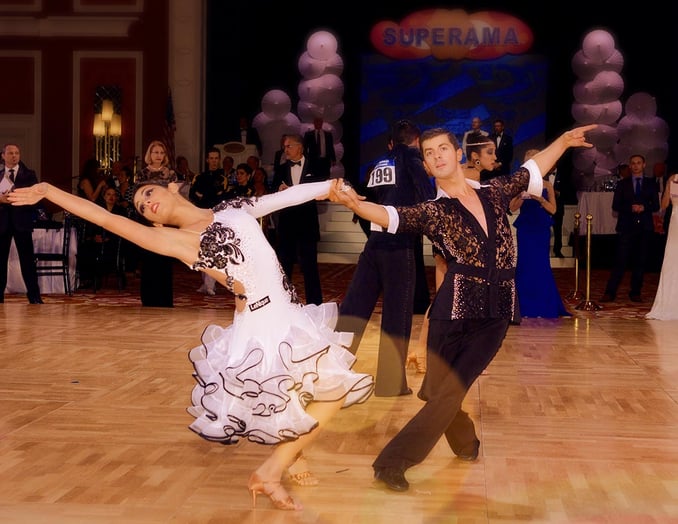 AML: For those students preparing to attend, what advice would you suggest for those that want to prepare the best way possible.
SC: Try to practice, and accept, unforeseen circumstances during the event. I have seen some students that felt like leading up to a competition they needed an empty football field sized floor, perfect regulation speed music, and ideal alignments to prepare for the event.
But the truth is that none of this is going to be guaranteed or even likely.
So now that all the hard work has been done, it's time to let go of the pursuit of perfection and just get ready to dance in the moment. Every dance and every heat will be a unique experience and trying to "prepare for ideal conditions" would not only be unrealistic but also a missed opportunity to enjoy the uniqueness of each dance.
Which is a fancy way of saying: Just have fun and enjoy the moment when the time comes.
AML: No teacher wants to come across as annoying, but sometimes we've got to remind our students of things to do at a big dance event. What's one thing that you find that you're constantly reminding your students to do?
SC: Listen to the music. The best dances we will ever remember are not the ones where our leg lines created a perfect 180 degree line with the left side burn, but the ones that make us feel something.
All that worrying about perfect execution makes us sometimes forget about listening and connecting to the music!
It seems like an oxymoron but after having to think of a million things in preparation for an event, I don't actually want my students to think of any of them while they dance.
Instead, I can only hope that muscle memory takes care of these things, and all of our focus should really be on our partner, and the music instead.
AML: Kristen has been a guest author on our site and she wrote an article a while back where she mentions how you both recovered from a mistake on the competition floor. Did she clear that story with you ahead of time, and how well did she do describing the events?
SC: Well... no, she didn't clear that up with me. She would probably argue that we both hurt equally after I slammed my head against her shoulder, so she has as much of a right to that story as I do. But she did tell me afterwards, as in 'Hey, guess what fun incident I wrote about the other day...'
And she did describe the story pretty accurately.
I do think though that while my pain was primarily physical, hers was also the pain of disappointment. She was telling me afterwards how proud she was of herself - for approximately 20 minutes - that she stopped quickly enough and didn't run into the couple next to us before I punished her by ramming my head into her 'Rambo-style'. So, I think we suffered very differently.
AML: You've mentioned some great tips about the importance of having the right focus at an event like this. If you could eliminate one worry that every dancer feels going to a dance event, what would it be?
SC: The actual outcome of the competition. I think a lot of people put pressure on themselves to place well, or to look good, or to do something unexpectedly genius at a competition, but that 1 minute-30 second snapshot of their dancing hardly matters compared to the hours of improvement they have already achieved by preparing for the event.
I love events, and I love using them as fun milestones for my students, but in the end that's all they are - milestones.
Even if I end up messing up during a few steps of my performance, there will always be thousands of great steps that I did in preparation to offset that. So if I can celebrate the progress that I have made leading up to the event, it alleviates the pressure of feeling like I have to do something extraordinary during the event itself.
All the extraordinary things have already happened leading up to it, and that should be the real achievement.
AML: If you could share a public service announcement to any of the students that may have felt like this event was outside of their skill level, what would you want to say to them?
SC: Every showcase is for every skill level.
As professional dancers and instructors, we really appreciate the developmental steps necessary to become great dancers, so we love seeing brand new students as much as we love seeing the accomplished dancers. It's exciting to see dancers grow at any stage in their dance life, and events like this showcase are about highlighting all of these steps along the way. As new dancers, we oftentimes tend to think in absolutes and in end results, but in dancing, there's no such thing as an end result. Every step is exciting and no dance is ever a finished product.
It's just a snapshot of a journey and as such, every level along the way is worth showcasing.
Serge Chmelnitzki in Santa Barbara from Chris Lynam on Vimeo.
Rapid Fire Questions

1. Did you have a nickname growing up, or do you have one now?

SC: My parents used to call me "Cepryxa", but I'm not sure that's helpful. Jimmy Mulligan once tried to coin "Power Surge", but it didn't stick.

2. The one sporting event that you freak out about the most?

SC: I'm not much of a sports fan, so the closest I get to freaking out like a sports fan is getting excited about a new iPhone. I haven't gone so far as to camp outside an Apple Store, but that's only because they have online orders starting at midnight.

3. Favorite dish when you visit home?

SC: Malzbier - not technically a dish, but a drink. It's a sweet, non-alcoholic malt beverage that I could drink in gallons, and that most people in the US, who were lucky enough to try it, would describe as "disgusting".

4. Your best "only in America" moment?

SC: It happened two days after I had just moved to the US. I was still trying to shake all the stereotypes about American food culture and tell myself that they're all greatly exaggerated, when someone took me to a Fair. Literally, the first food stand that we ran into was deep-fried butter. That certainly didn't help my culture shock.

5. Your all time favorite theme or moment at the Unique Dance-O-Rama?

SC: It wasn't actually at Unique Dance-O-Rama, but in preparation. Bill Jacobsen was supposed to fly across the ceiling dressed like Elton John while the rest of us were supposed to shoot confetti cannons at the ceiling (and not at Bill). So to try and estimate how hazardous the confetti cannons were going to be, Steve asked me to shoot some confetti cannons outside of our studio during one of our combined meetings, and estimate the height of the shot - strictly for science. That was one of those moments where you look at yourself from the outside and stop to think, "so this is what I do for a living... cool!"

5. In one sentence, why should everyone take the time to study international Latin?

SC: Because we all naturally walk with a direct hip action anyway when we walk down the street - so we might just as well put all those years of practice to use.

5. What's the phonetic spelling of your last name?

SC: Shmel-nit-ski. So almost like the actual spelling, or as Kristen likes to explain it: Smell-knit-ski.
If you enjoyed this article, let us know by becoming an Arthur Murray Live subscriber! You'll get instant access to premium content, and one email, once a week, with all of our best articles.