Don't Take Our Word For It.
Meet Some of Our Friends at Arthur Murray Live!
Shelley Hertz

"Arthur Murray has given me tremendous confidence."
Brooke Robbins

"I love everything that it's given me in terms of confidence and friendship."
Norbert Strecker

"After 20 minutes of dancing, I'm a totally different person."
Jim Sepeda

"When you come to Arthur Murray you ask somebody to dance, they're happy to dance with you. "
How do we Make this Happen for Students?
Dancing is a Process
At Arthur Murray, we believe that everyone can learn how to dance.

No one is born with dance skills. It's all a process!

And as you continue to practice and improve, it takes you closer to becoming a great dancer.
Everyone Starts as a Beginner
Arthur Murray developed a system designed for someone with zero dance experience.

Our teaching system is like a store for dancing. Everything you learn connects to another pattern, dance, or concept and planned according to your skill level so everything is fun, quick, and easy to learn.
No Partner, No Problem
You don't need to have a dance partner to begin dance lessons.

We believe that learning on your own can be an advantage. It helps you to work on your own pace and focus on your specific roles so the best possible results are delivered. A great dancer will learn how to dance, then choose a partner.
Your First Dance Lesson is Free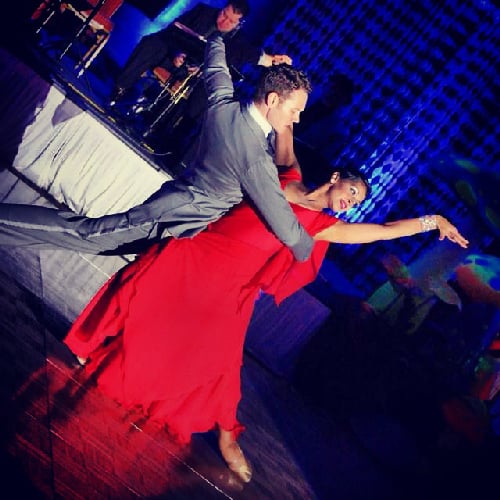 Both Chris and Daisey started their Arthur Murray journeys in different locations, for completely different reasons.
In 1998, Daisey initially took lessons at Arthur Murray Hayward. She was an avid salsa dancer, and immediately fell in love with the environment and escape that dancing provided.
Chris was coming to grips with a future without basketball, which he grew up playing. An injury, a misdiagnosis, and an eventual surgery meant that he needed to find a new path. With the help of a friend, he tried out Salsa Dancing at Arthur Murray.
Today, this married couple celebrate their 20th years in the Arthur Murray organization and have had a hand in opening 10 Arthur Murray locations - with more on the way.
Mix in a decade long professional competitive dance career and 5 kids, and it may help you understand that their definition of "busy" may be different than most other couples.
Hear More From Our Students
" Such an awesome organization that is looking to happily dance with everyone across the world. The website, articles and blogs that are being put out are so informational, funny, and most importantly helpful in the overall achievement of becoming the best dancers we can be! The staff are incredible and they are just the friendliest bunch of people you'll ever meet!!! :) Thanks for sharing and great job on all your hard work!! "
" I went to the introductory free lesson and loved it. The staff is very encouraging. I take a private lesson at least 2 times a week. It is a skill I had always wanted to learn but never had the time. Everyone there is very encouraging and make learning fun. The instructors know how to teach you to get moving in a fun way! Give them a try! "
" In life there are unique experiences which allow us to share joy, triumph, accomplishment, artistry, freedom of expression, love and happiness! Arthur Murray franchised dance studios are one such life experience that I highly recommend! Cheers and here's to another 105 years of teaching people the joys of the world of ballroom dancing! "
" I never took lessons, but I was always welcomed when I came in to conduct a store check, (and the instructors dancing their way to sign the store check list) at their Walnut St.,
Redwood City Location. I live close by them and I will miss conducting their store checks. "
" This website is highly informative. There's a lot of dance etiquette out there that people wouldn't think of and this educates you on a
lot of it from social dancing to full on dance competitions. I visit this place religiously! "
" How many places can you go where the staff are always happy & genuinely excited to see you? This place will put a smile in your face & make you feel welcome EVERY time you visit! You will not be disappointed. Go in & have the time of your life! "
" This is a first-rate organization. Their website has articles that are helpful and interesting to Ballroom dancers around the world. Their staff is well-trained, courteous, professional, and passionate about what they do. And finally, the owners are people of great integrity both in practice and in principle. Highly recommended. "
" The level of commitment to great service and superb quality of teaching And guidance is by far among the best ,
thank you for the friendliness kindness and warmth and support on my journey "
" It is a pleasure to dance with these stars! The staff is so friendly and fun...
my daughter and I have enjoyed dancing together. We love the enthusiasm and professionalism of the teachers "
" I've worked with many of the teachers and owners of
Arthur Murray throughout the Bay Area and have only had exceptional service . Friendly staff, caring and supportive . Highly recommend "
" I look forward to every event and every lesson from this very talented group of individuals.
It's impossible not to notice the commitment to training and development of teachers and staff. Bravo! "
" My husband and I enjoyed every lesson we had at the Livermore location. Such a wonderful place to be! "
" Outstanding people! So much fun to be around and very professional! I'm always inspired to be with them! "
We Welcome Dancers of All Ages,
Experiences, & Background
Dance Tips for Beginners
FOOT POSITIONS FOR POPULAR LATIN DANCES
"The hardest step you'll ever learn is the first one through our door."